January is the month of giveaways



WE ARE ON A ROLL!


January is our birth month, and thus it is the month of giveaways!


What do you do in this giveaway?

If you want to enter, all you have to do is

this journal!


R U L E S



- You don't have to be a member to participate.
- The deadline of this giveaway is Thursday, January 26, 2012 at 4:00PM EST.

After 4:00PM EST, I (~Jazzs-girl-4ever) will use a random number generator. Once you fav this journal, you automatically have a number next to your username. Whichever number the random number generator comes out with wins 50

! (Whoever has that number next to them)

The random number is: 64!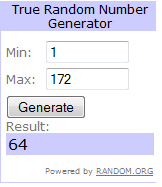 Winner:
~
Reichieru-Uchiha
CONGRATULATIONS!!!

Please help
%
Cybertronians
by offering prizes!
All points given to
~
Jazzs-bot
will be used for this group.

If you donate 20

or more you will be featured by this group for one month.